Rite of Election and Enrollment of Names
(RCIA 119)  At this second step, on the basis of the testimony of godparents and catechists and the of the catechumens' reaffirmation of their intention, the Church judges their state of readiness and decides on their advancement toward the sacraments of initiation.  Thus the Church makes its "election," that is, the choice and admission of those catechumens who have the dispositions that make them fit to take part, at the next major celebration, in the sacraments of initiation.
This step is called election because the acceptance made by the Church is founded on the election by God, in whose name the Church acts.  The step is also called the enrollment of names because as a pledge of fidelity the candidates inscribe their names in the book that lists those who have been chosen for initiation.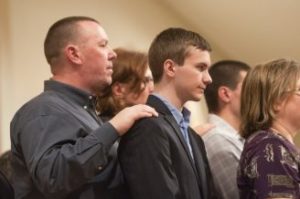 Rite of Calling the Candidates to Continuing Conversion
(RCIA 446)  This rite may be celebrated with baptized but previously uncatechized adults who wish to complete their Christian initiation through the sacreaments of confirmation and eucharist or who wish to be received into the full communion of the Catholic Church.
Due to the large number responding, the Rite of Election at the Cathedral of St. John the Baptist will be split into 2 sessions.
Attending @ 2 p.m.:  Christ Our King, Holy Spirit, Immaculate Conception, St. Anthony (Hardeeville), St. Anthony (Ridgeland), St. Gregory the Great, St. Francis by the Sea, St. Peter (Beaufort)
Attending @ 4 p.m.:  Blessed Sacrament, Cathedral, Church of the Nativity, Divine Redeemer, Sacred Heart (Charleston), St. Clare of Assisi, St. John (North Charleston), St. John the Beloved, St. Joseph the Worker (Charleston), St. Theresa the Little Flower, St. Thomas the Apostle
Rite of Election & Call to Continuing Conversion 2021
Thank you for understanding that due to COVID 19 concerns, participation will be limited to designated Parish Representatives, Candidates/Sponsors and Catechumens/Godparents. Please RSVP to Cathy Roche in the Office of Catechesis and Christian Initiation at (843) 261-0504 or cathy@charlestondiocese.org on or before February 10, 2021.
Deanery
Site
Date
Time
Greenville
St. Mary Magdalene Church, Simpsonville
Friday, February 19
7:00 p.m.
Aiken/Columbia/Rock Hill
Corpus Christi Church, Lexington
Saturday, February 20
11:30 a.m.
Beaufort/Charleston
Cathedral of St. John the Baptist, Charleston
Sunday, February 21
2:00 p.m.

4:00 p.m.

Myrtle Beach
St. Michael the Archangel Church, Garden City
Monday, February 22
7:00 p.m.